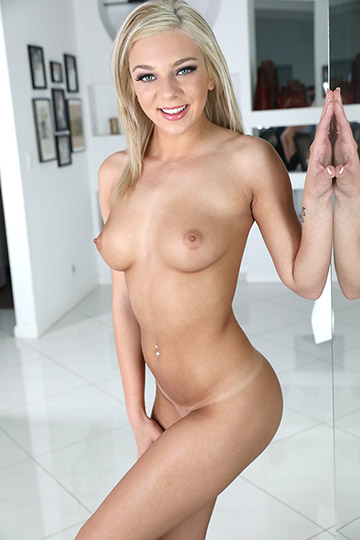 | | |
| --- | --- |
| Date of birth | October 2, 1995 |
| Eye color | Blue |
| Hair color | Blonde |
| Height | 5'7" (170 cm) |
| Weight | 125 lbs. (56 kg) |
| Measurements | 36D - 22 - 29 |
Blonde, tattooed, pierced Tiffany Watson stands 5'2" and measures 32B-27-34. Born in October 1995 in Boise, Idaho, she's an American girl — the kind seemingly cut out to be a porn star. As she was growing up in Idaho, Tiffany's parents divorced. Her father brought her and her sisters to a church associated with family values and conservative mores. But Tiffany and her best friend were rebellious, often sneaking out of church. Folks there considered Tiffany wild. At one point, her parents threatened to put her in a boot camp for kids with behavioral problems, but she says she was only up to normal, teenage misbehavior. Tiffany started taking long walks, as a way to avoid church youth activities. She shared her first kiss with a neighbor four years her senior. On one walk, she visited a guy she liked from her Spanish class and wound up making out with him. Tiffany skipped church to give him a handjob/blowjob, and then told her church friends about it, grossing them out. She went back the next day and lost her virginity. That was not a memorable fuck, but Tiffany did better the next day with the same guy — in the back seat of his car during a high school basketball game. She texted a friend literally during the sex. So word got out, creating drama, and female classmates were mean about it. Of her senior year, Tiffany says, "I was the stereotypical cheerleader, fucking everyone on the team." She found guys that lived within walking distance of her home and fucked them, giving up what their girlfriends wouldn't. She had her first interracial experience with a neighbor — Tiffany would practice blowing him while her parents thought she was on a nature walk. One day Tiffany was smoking with two guys, best friends she had fucked individually. Suddenly she got the idea to have her first threesome and just blurted out the proposal. They were game, and though Tiffany had little idea what she was doing, she guided the action. "Embraced it like the inner bitch I am," she later commented. Tiffany says she became the biggest slut in the school. Her mom eventually kicked her out of the house, so Tiffany moved in with a friend and had a fun year, partying every weekend. She loved getting naked at parties and going to the bedrooms to get fucked. Tiffany was not a porn watcher at that time because she had no phone and her parents restricted her computer usage. Upon high school graduation, Tiffany says she "really wilded out." She studied social work for a while but blew off college to fuck and party. She did a lot of threesomes and got really into fucking the black guys on the basketball team. By then, Tiffany had many conquests — "I had a list that was up to 90." Meanwhile, Tiffany got an apartment and worked at a gigantic retail store, but that grew tiring. She decided she wanted to be a porn star. "You get paid to fuck, that's awesome! And hundreds of thousands of people get to watch you do it too!" So Tiffany sent selfies in response to a modeling agency's ad, and they soon flew her to Las Vegas... Tiffany's hardcore career started in 2015. She was excited for her first scene, but nervous because it would be her first-ever anal experience. The whole crew was male, which turned her on. She liked doing porn right away and never had cold feet. So she shot many anal scenes in her first two years. Along the way she had a few tough months working for a creepy pornographer in Florida, until she snuck out. A porn contact flew her to Arizona and then Los Angeles, where she found an agency she liked. Her career took off. Ms. Watson's first girl-girl sex was in porn. That took some getting used to, but now she loves it. Overall, she's opened herself to new experiences. She loves performing in taboo relations scenes, play-acting with stepdads, stepsisters, etc. She'll often ask a producer, "Can you make me the one that comes on to them?" Tiffany says she never came before porn, but she's turned out to be a squirter! She loves foreplay, likes being told what to do, and can be very vocal about what she wants. Her preferred fuck position is missionary because she likes looking at her partner. She swallows semen but prefers cum shots in her pussy. Her fantasy: sucking dick with another guy, and then one guy fucks her and the other sucks his dick when it comes out of her! When she's not creating or living out fantasies, Tiffany is kind of a homebody. She likes to shop and try new foods. She likes "tech pop and good vibe music," as well as 1990s sounds. And she smokes lots of weed — in fact, Tiffany once named a puppy Marley.