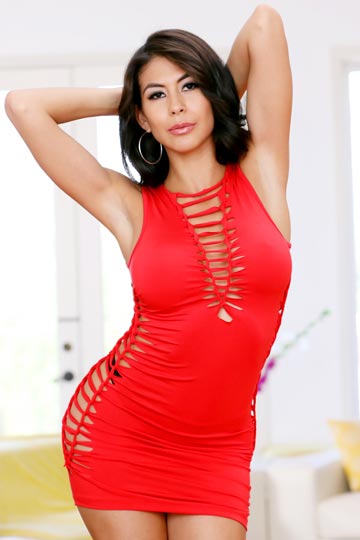 | | |
| --- | --- |
| Geburtsdatum | September 26, 1988 |
| Nationalität | US |
| Augenfarbe | Brown |
| Haarfarbe | Brown |
| Größe | 5'3" (160 cm) |
| Gewicht | 100 lbs. (45 kg) |
| Maße | 34B - 24 - 34 |
Beautiful, exotic Heather Vahn was born in September 1988 in La Mirada, Calif. The dark-haired, bronze-skinned stunner stands 5'3" and weighs ... very little! At the start of her porn career — in 2008 at around the age of 20 — she measured a petite 33B-23-33, but some titty enhancement has inflated the first figure. Heather admits to having taken a clandestine interest in porn when she was in her teens. In those days no one in her family had a laptop, so naughty Heather would sneak out of bed to watch dirty movies on the family's desktop computer in the middle of the night! Young Heather noticed that the women in porn looked sexy and happy. That got her attention. By the time she'd turned 18, Heather's interest had only increased, so she had a tech-geek buddy research adult industry performer agencies, and that led her to having sex on camera. Ms. Vahn loves the work she's done for director Jonni Darkko, and she's attracted Juelz Ventura. She still has the hots for a couple of performers she discovered in her early porn-watching days: Nina Hartley and Peter North. Heather says she was always enticed by Ms. Hartley's tan lines and her butt. Heather is philosophical about separating porn sex from private life sex. No matter whom she's with, getting her pussy fucked feels good! But for sex at work, she puts her "heart in a box" — while she's friends with her porn co-workers, the sex they share on camera is different from romantic love. In fact, Heather does not like to date within the XXX industry, in part because she wouldn't be cool sharing her partner. (On the other hand, it seems natural that her boyfriends would get off on her porn scenes.) At home, she and her partner put intimate emotion into sex. They know each other well enough that their fucking feels deeper and more soulful. Speaking of happy boyfriends, Heather loves the special feeling of bringing a woman home to her guy for a threesome, and she feels like that's a lot different from the guy hooking up on his own. In terms of Heather's taste in men, she requires her guys to be fit, confident and witty. She says a strong brain matters. Heather can always tell when a fan recognizes her — she sees excitement in their eyes. The native California girl now lives in New York City, and she's busy! When she's not performing in porn, Heather is into finance and fitness. She studies the stock market and real estate, and she likes investing. She has four gym memberships, and she's into hiking, soccer, weight training, skateboarding (since she was 13) and horseback riding. She even trains for Mixed Martial Arts! Heather considers herself highly spiritual. She studies Tibetan Buddhism and tends to have hippie sensibilities — at least when this Libra is not investing!